Skip to Content
Motorcycle Repair Services in Stockton, CA
D&S Moto Works services all makes and models of foreign and domestic motorcycles, dirt bikes, ATVs, and scooters. We have two fully-equipped service bays to work on your machines. Our facilities stay stocked with a large selection of tires, brakes, and oils, so you don't have to wait for us to order parts for your bike. This allows us to conduct proper maintenance and service on your motorcycle and have it back to you quicker! Many of our clients ride out on the same day. If you've noticed shifting troubles, lag on acceleration, or strange sounds, bring your bike in right away. The longer you wait without repairing an issue, the worse it can become. To ensure we can give your bike the time and attention it needs, be sure to call us ahead of time to schedule an appointment.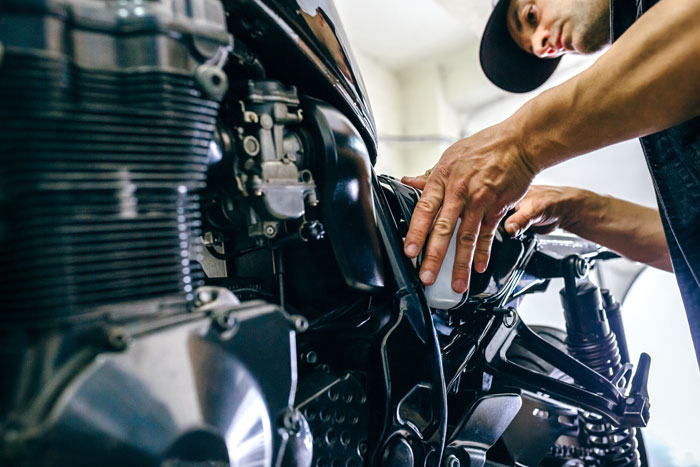 Let's Talk About Power
Looking to get some more power out of your ride? Routine maintenance isn't the only thing our team provides for Stockton, CA. If you've bought new handlebars, headlights, chain, or other components, but aren't sure how to install them, bring it in to us! We're happy to talk you through our process and install your new parts to make your bike really stand out. Half the fun of owning a motorcycle is personalizing your bike to reflect the rider in you. Whether you're looking to install straight pipes or beefier brakes, bring your bike to D&S Moto Works.
Stay Safe on The Road
We take pride in keeping California's motorcyclists safe on the road. Even a professional rider can have troubles on a bike that needs maintenance. One aspect's importance that we can't stress enough is installing proper tires. That's why we stay well-stocked on a wide variety of tried and tested tire brands and sizes for all types of bikes. Keep your grip and stay safe out there. We're all in this together. If the tread on your tires is wearing thin or you want to upgrade to a better composite, stop by our shop today.